That magical adhesive that swoops in like a hero to save the day. Need to fix a broken mug? Super glue's got your back. Want to mend that favorite pair of shoes? Super glue's on it. It's fast, it's furious, and it's become an essential tool in households and industries alike.
But hold on just a second. Before you dive headfirst into a sticky situation, let's take a moment to explore both sides of the super glue coin. After all, every superhero has their flaws, right? In this blog post, we'll uncover the pros and cons of super glue so you can make an informed decision about whether it's the right adhesive for your needs.
So buckle up and get ready for a wild ride through the world of super glue. By the end of this journey, you'll be armed with all the knowledge you need to tackle any bonding challenge that comes your way. Let's jump in.
What is Super Glue?
Super glue, scientifically known as cyanoacrylate adhesive, is a remarkable adhesive that has revolutionized the way we bond materials together. From quick repairs to intricate craft projects, super glue offers exceptional strength and versatility. In this comprehensive guide, we will explore the fascinating world of super glue, its benefits, limitations, and proper usage.
The Power of Super Glue:
Super glue reigns supreme when it comes to bonding materials. It possesses incredible strength, allowing it to securely bond a wide range of materials including metal, plastic, rubber, ceramic, and wood. Whether you're fixing a broken household item or creating something new, super glue is your go-to adhesive.
Instant Bonding and Quick Drying:
One of the standout features of super glue is its ability to form an instant bond. Within seconds or minutes of application, the adhesive sets and creates a strong connection between the bonded surfaces. This quick-drying property is particularly advantageous when time is of the essence.
Resistance to Heat and Chemicals:
Super glue not only boasts strength but also exhibits resistance to heat and various chemicals. Once fully cured, it can withstand high temperatures without losing its adhesive properties. Additionally, it can resist common chemicals such as oils, solvents, and acids, making it suitable for use in demanding environments.
Pros and Cons:
While super glue offers numerous benefits, it's important to be aware of its limitations as well. On one hand, its inability to bond certain materials like glass or specific plastics can be seen as a drawback. Accidental spills or contact with skin can also pose risks due to the adhesive's strong bonding properties. However, by taking precautions such as wearing gloves and working in well-ventilated areas, these risks can be minimized.
Tips for Proper Usage:
To ensure successful bonding with super glue, it is crucial to follow some guidelines. First, clean the surfaces to be bonded, removing any dirt, oil, or debris. Apply a small amount of glue and press the surfaces firmly together.
Allow sufficient time for the adhesive to cure before subjecting the bond to stress or load. If adjustments or repairs are needed, specialized debonding agents or techniques may be required.
Advantages of Using Super Glue
Super glue, the superhero of adhesives, boasts an array of advantages that make it a go-to choice for all your bonding needs. From its lightning-fast bond to its versatility and water and heat resistance, this adhesive is truly a game-changer.
First and foremost, super glue's quick and strong bond sets it apart from traditional adhesives. While others require clamping and drying time, super glue forms an almost instantaneous bond upon contact. It's the ultimate solution for those broken items or last-minute DIY projects that demand immediate attention and unwavering reliability.
Speaking of versatility, super glue is an adhesive chameleon. It effortlessly adheres to a wide range of materials like metal, plastic, rubber, ceramic, and more. Whether you're repairing household items or working on intricate crafting projects, this adhesive can handle it all. It's like having a multi-talented assistant by your side.
But wait, there's more. Super glue also boasts water and heat resistance once cured. It forms a waterproof and heat-resistant bond that can withstand high temperatures without losing its adhesive properties. So whether you're fixing something indoors or tackling an outdoor project, super glue won't back down in the face of moisture or scorching heat.
In addition to its performance, super glue is incredibly user-friendly. It comes in small tubes or bottles with precision applicators, ensuring precise application without any mess. No more sticky fingers or crooked gluing – super glue makes it easy peasy.
And let's not forget about its long shelf life. Unlike some adhesives that dry out over time, super glue stays fresh when stored properly. This means you can stock up on it without worrying about it becoming unusable. A true lifesaver for all your future projects.
Last but certainly not least, super glue is widely available. You can find it in hardware stores, supermarkets, and even online retailers. Plus, it's an affordable option that offers great value for money considering its effectiveness and versatility.
Disadvantages of Using Super Glue
Super glue may seem like a superhero when it comes to bonding, but it does have its fair share of disadvantages. Let's dive into the drawbacks of using this powerful adhesive.
First and foremost, one of the biggest challenges with super glue is its tenacity. Once it bonds, it's nearly impossible to undo. Accidentally glued your fingers together? Good luck trying to separate them without some serious effort and potentially even some pain. And if you get it on sensitive areas like your eyes or lips, removing it becomes an even more daunting task.
In addition to being difficult to remove, super glue also emits a strong odor. The fumes can cause irritation to your eyes, nose, and throat, especially in poorly ventilated spaces. So unless you enjoy the smell of strong chemicals, it's best to use super glue in a well-ventilated area.
Super glue isn't compatible with all materials either. While it works wonders on metal, plastic, and ceramics, it may not bond effectively with materials like rubber or fabric. So before you start gluing things together, make sure to check if the surfaces are compatible with super glue.
Another drawback is the short shelf life of super glue once it has been opened. Once air gets inside the bottle, the glue can harden over time and become less effective. If you don't use super glue frequently, you may end up wasting a lot of product.
Cost is another factor to consider. Super glue tends to be more expensive compared to other types of adhesives on the market. If you're on a budget, there are alternative options that may be more suitable for your needs.
Messiness is also a downside of using super glue. Its liquid consistency makes it prone to dripping and spreading beyond the intended area. This can create unwanted messes and potentially damage surfaces that were not meant to be bonded together.
Lastly, super glue can become brittle over time, especially when exposed to extreme temperatures or moisture. This means that the bond may weaken or break under certain conditions, compromising the integrity of the glued objects.
Tips for Using Super Glue
Super glue, also known as cyanoacrylate adhesive, is a powerful adhesive that can bond various materials quickly and effectively. However, it requires careful handling and application to ensure successful results. In this article, we will provide you with valuable tips for using super glue safely and effectively.
Prepare the Surfaces:
Before applying super glue, it's essential to prepare the surfaces to be bonded. Clean them thoroughly, ensuring they are dry and free from any oils or debris. This will create a stronger bond and prevent any potential issues. Use a gentle cleanser or rubbing alcohol to remove any grease or dirt. Be sure to let the surfaces dry completely before applying the glue.
Apply Small Amounts:
Super glue is a fast-acting adhesive, so it's crucial to use small amounts. Squeezing out too much glue can lead to messy applications and difficulty in controlling the flow. Apply a thin line of glue evenly on one surface only. This will allow the glue to spread evenly when the surfaces are pressed together.
Apply Sparingly and Evenly:
To avoid excess glue seeping out and creating a mess, apply the glue sparingly and evenly on the surface. This will help achieve a neat and precise bond. Remember, a little goes a long way with super glue. If you accidentally apply too much glue, use a toothpick or a cotton swab to remove the excess before it dries.
Apply Slight Pressure:
After applying the glue, gently press the glued surfaces together for a few moments to ensure proper contact and bonding. Applying slight pressure will help the adhesive spread evenly and create a strong bond. However, be cautious not to accidentally stick your fingers together or get glue on your skin. If your fingers do get stuck together, soak them in warm soapy water to gently separate them.
Use Clamps or Tools:
For larger or heavier objects, it's recommended to use clamps or other tools to hold the glued surfaces in place until the adhesive sets completely. This will ensure a strong and secure bond. If clamps are not suitable for your project, you can use masking tape or rubber bands to hold the surfaces together. Make sure the pressure is evenly distributed to avoid any misalignment.
Clean Up Accidental Spills: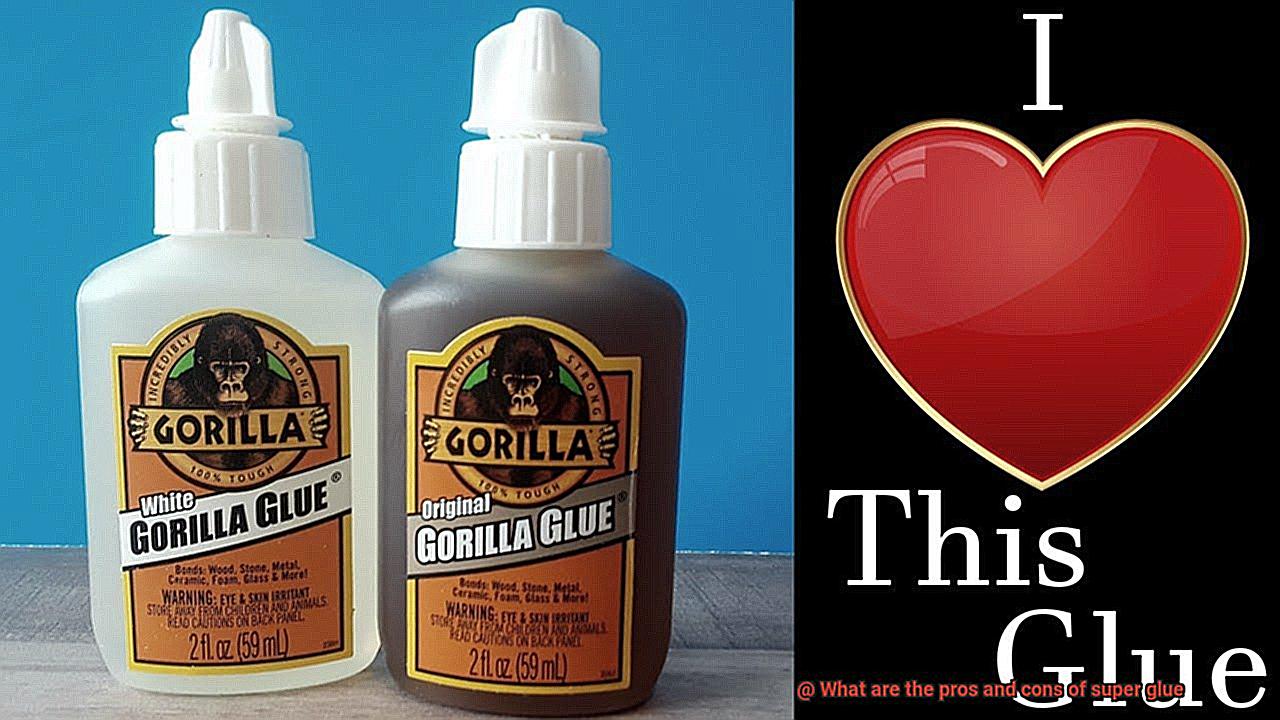 Super glue hardens quickly, so it's essential to have a damp cloth or acetone nearby to clean up any accidental spills or excess glue before it dries. Prompt action is crucial as dried super glue is difficult to remove. Gently blot the spill with a damp cloth or use a cotton swab dipped in acetone to dissolve the glue. Be careful not to spread the glue further or damage the surface you are working on.
Remember, super glue is not suitable for all materials, such as fabrics or certain plastics. Always read and follow the instructions on the packaging. Additionally, ensure proper ventilation when using super glue, wear gloves or use barrier creams to protect your skin, and avoid contact with eyes and mouth.
Different Types of Super Glues
But did you know that not all super glues are created equal? In this article, we'll explore the different types of super glues available and their unique properties and applications. So, buckle up and get ready to learn more about the adhesive wonders of the world.
General-Purpose Super Glue:
The go-to glue for most everyday bonding needs, general-purpose super glue sets quickly and forms a strong and durable bond. It's perfect for joining materials like plastics, metals, ceramics, wood, and even some fabrics. Keep in mind that it may not be suitable for certain materials like polyethylene or polypropylene.
Gel-Based Super Glue:
If you need precise control over your adhesive or want to tackle vertical applications, gel-based super glue is your best friend. With its thicker consistency, it's less likely to run or drip. The longer curing times of gel-based super glues also allow you to reposition or adjust bonded items before the adhesive sets completely.
Specialized Formulas: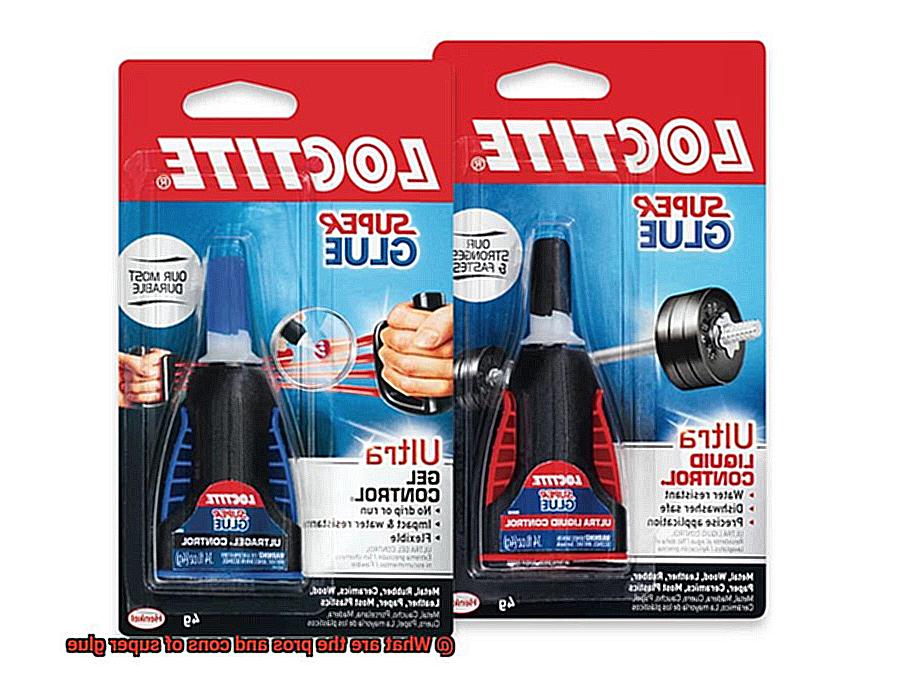 Some super glues are formulated for specific materials or applications. For example, there are glues designed for bonding porous materials like foam or fabric, ensuring optimal adhesion without damaging delicate substrates. Additionally, there are variants resistant to high temperatures or moisture, perfect for extreme conditions or challenging environments.
Pros and Cons:
Super glue offers advantages such as strong bonding, quick drying time, versatility, and water resistance. However, it lacks flexibility once cured and can be challenging to reverse bonds. It also has limited gap-filling ability and can cause skin irritation in some individuals.
Choosing the Right Glue:
Consider factors like the materials you're bonding, desired cure time, and specific project requirements when choosing a super glue. Read product labels and instructions carefully to ensure compatibility with your intended materials and application.
Safety Precautions When Using Super Glue
When it comes to using super glue, safety precautions are a must. This powerful adhesive may be quick and strong, but we need to handle it with care to avoid any sticky situations. Let's dive into the world of safety measures for using super glue.
First and foremost, let's talk about our skin. Super glue loves moisture, and unfortunately, that includes the moisture on our skin. To avoid any irritating or sticky situations, always wear protective gloves when working with super glue.
Ventilation is key. Super glue releases fumes that can be harmful if inhaled excessively. Keep the air fresh and safe by opening windows or using a fan to circulate the air while you work.
Now, let's keep those peepers and taste buds safe. Avoid any accidental contact with your eyes or mouth. If you do happen to get some in your eyes, flush them with plenty of water and seek medical attention. And please, don't even think about swallowing it – choking or gastrointestinal blockage is no fun.
Storing super glue properly is also crucial. Keep it out of reach of children and pets because ingestion or contact can have serious consequences. Always make sure to tightly seal the container after each use to prevent drying out and potential leakage.
When applying super glue, less is more. Using small amounts and applying it precisely will help you avoid accidents like gluing your fingers together or sticking objects unintentionally.
If you find yourself in a sticky situation where your skin becomes bonded together, don't panic. Trying to force the bonded areas apart will only cause more harm. Instead, soak the affected area in warm soapy water or use an acetone-based nail polish remover to gently separate the surfaces. Seek medical attention if necessary.
Last but not least, always read and follow the instructions provided by the manufacturer. Different brands of super glue may have specific safety precautions or usage guidelines that you need to be aware of for optimal results and safety.
Common Uses for Super Glue
Its common uses range from household repairs to crafting projects, with even some surprising applications in the medical and beauty industries. However, it's important to take safety precautions when using this adhesive.
When it comes to household repairs, super glue is like a superhero. It can mend broken ceramic or glass items, repair furniture or wooden fixtures, and bring life back to your favorite pair of shoes. Just a few drops of this powerful adhesive and voila. Your broken items are good as new.
Calling all crafters and DIY enthusiasts. Super glue is your secret weapon for creating beautiful and unique projects. It bonds different materials like plastics, metals, and fabrics with ease, making it perfect for jewelry-making, model-building, and other small crafts. The possibilities are endless.
Believe it or not, super glue has found its way into the medical world too. It can be used as a temporary wound closure method for minor cuts or lacerations. However, remember to only use it on clean wounds and not on deep or infected cuts.
If you're a car enthusiast, you'll love this one. Super glue can be a lifesaver in the automotive industry. It can bond plastic parts, repair cracked windshields, and fix loose interior trim pieces. Say goodbye to those annoying rattles and hello to a smooth ride.
Got a loose wire or a broken circuit board? Super glue to the rescue. It can secure wires or components on circuit boards and repair small electronic devices. Just be careful not to use too much glue, as it can interfere with the delicate electronics.
Yes, you read that right – super glue is a beauty hack too. It's commonly used as an adhesive for false eyelashes or nail tips. Just remember to use it sparingly and avoid getting it in your eyes or mouth. Safety first, always.
Now that we've covered the common uses for super glue, let's talk about safety precautions. When using super glue, it's important to use it in a well-ventilated area to avoid inhaling the fumes. Wear protective gloves to prevent skin contact and avoid getting it in your eyes or mouth – trust me, you don't want to experience the sticky situation that can result. Keep super glue out of reach of children, as it is not meant for their little hands. Test it on a small area before applying it to the entire surface, especially if you're unsure how it will react with certain materials. Remember that super glue sets quickly, so there's little time for repositioning once applied. Make sure you have everything lined up correctly before sticking it together.
While super glue is a fantastic adhesive, it does have its limitations. It may not work well on certain types of plastics or materials that are oily or greasy. In those cases, it's best to explore other specialized adhesives or seek professional assistance for larger or more complex repairs.
Alternatives to Super Glue
Super glue may be the go-to adhesive for many, but it's not always the best choice for every project. Whether you're a craft enthusiast, a DIY guru, or simply in search of an alternative adhesive, fear not. We have compiled a list of five fantastic alternatives to super glue that can come to your rescue in various situations. Get ready to dive into the world of adhesives and discover the perfect bonding agent for your needs.
Epoxy Adhesive:
If strength and durability are what you seek, look no further than epoxy adhesive. This two-component powerhouse consists of a resin and a hardener that must be mixed before use. The result? A bond that can withstand water, chemicals, and high temperatures with ease. Perfect for construction, automotive repairs, and crafts requiring long-lasting results.
Pros: Strong bond, resistance to water and chemicals.
Cons: Requires mixing before use.
Hot Glue:
Crafters and DIY enthusiasts rejoice. Hot glue is your go-to alternative. Quick, easy to use, and available in various colors and sizes, hot glue is versatile enough to bond materials like fabric, paper, and lightweight plastics with ease.
Pros: Quick bond, perfect for crafts.
Cons: May not be as strong as super glue.
Cyanoacrylate Gel:
For precise application on vertical surfaces or when filling gaps, cyanoacrylate gel is a marvelous choice. With fast-drying properties and strong bonds akin to super glue, this gel-like adhesive will not disappoint.
Pros: Easy application control.
Cons: May not work well on all materials.
Wood Glue:
Woodworking projects need a specialized adhesive, and wood glue fits the bill perfectly. Available in different types such as PVA (polyvinyl acetate) glue and polyurethane glue, it ensures a strong bond and resistance to moisture. PVA glue is water-based and easy to clean up, while polyurethane glue expands as it cures, providing an even stronger bond.
Pros: Strong bond on wood, moisture resistance.
Cons: Not suitable for non-porous materials.
Silicone Adhesive:
When flexibility and waterproofing are essential, silicone adhesive is your best bet. Ideal for sealing or bonding materials like glass, rubber, or plastic, it can withstand high temperatures and outdoor conditions with ease.
Pros: Flexible, waterproof.
Cons: May not provide as strong of a bond on certain materials.
Conclusion
Super glue, like any other product, has its advantages and disadvantages. On the positive side, super glue is incredibly strong and can bond materials together quickly and securely. Its fast-drying nature makes it convenient for small repairs or DIY projects. Additionally, super glue is versatile and can be used on various surfaces such as metal, plastic, wood, and ceramics.
However, there are also drawbacks to consider. Super glue has a tendency to bond skin together if not used with caution, which can be painful and difficult to undo. It also has limited flexibility once dried, making it unsuitable for applications that require movement or flexibility. Moreover, super glue may not work well on certain types of plastics or materials with oily surfaces.
In conclusion, while super glue offers many benefits in terms of strength and versatility, it is important to handle it with care due to its potential risks.